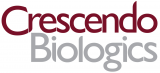 Crescendo Biologics
Crescendo has developed a unique transgenic mouse which generates fully human VH single domain antibody fragments in the absence of contaminating murine light chains.
VH are the smallest, most robust antibody fragments with advantages for engineering of bispecific and multivalent products, tissue and tumour penetration, topical delivery and simple manufacture.
Crescendo is applying the platform to a pipeline focused on inflammation and oncology, and topical delivery.